May 7, 2019
Feature Stories
A Look at the Food Innovation & Design Lab
The JWU Food Innovation & Design Lab (FIDL) is a 2,200 square foot venue designed to advance the university's role as a food authority in the Culinary Arts Museum. Construction began in the fall of 2018 with a soft opening in March of 2019. Beginning with academic year 2019-20, students and faculty from multi-disciplines will utilize the space as part of curriculum. With its foundation in food, a differentiator among the nation's universities and colleges, JWU has been examining the innovative career paths forged by its graduates in areas that connect food, health, science, technology, and design. FIDL is the university's first facility designed to deepen a student's experience towards that future of food.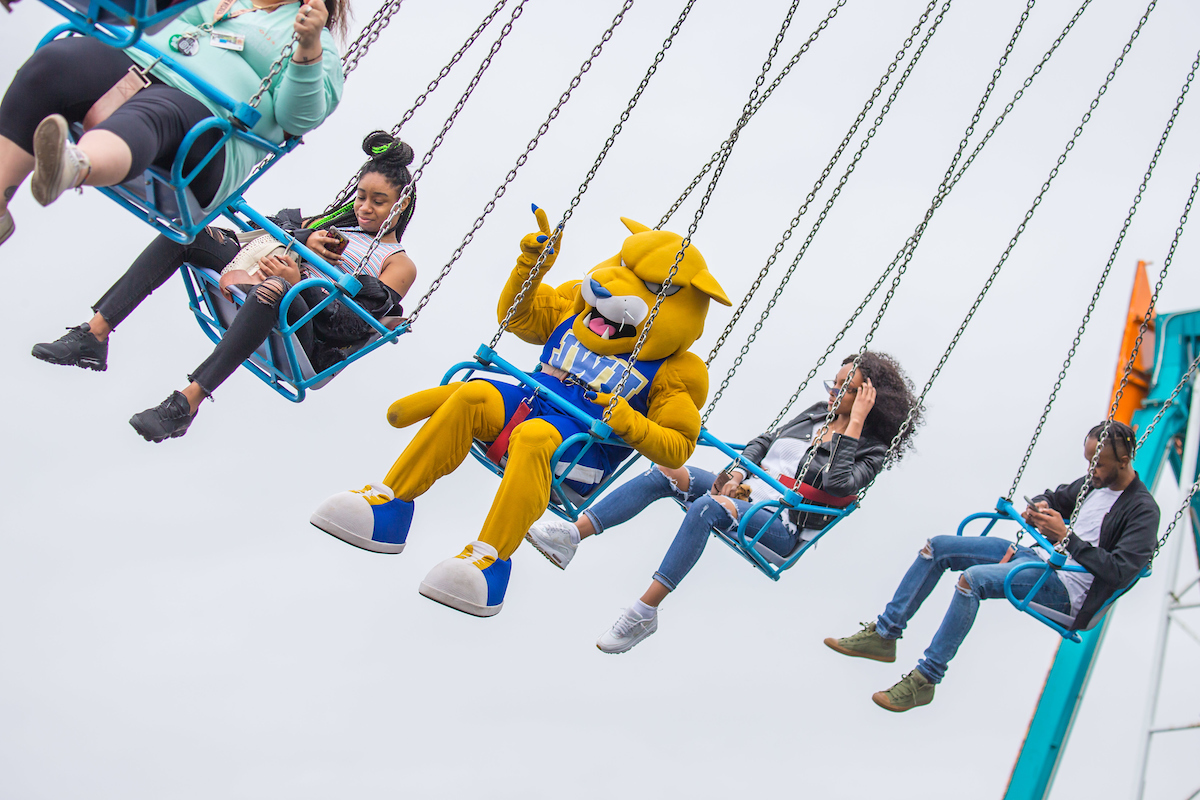 Wildcat Wahoo Carnival
Hundreds of students and members of the JWU community came out for the annual Wildcat Wahoo Carnival on May 4. Attendees enjoyed a variety of rides, games, novelties, food trucks, and entertainment. This year's feature performer was musical artist Ayokay, along with JWU student dance group Ataxia.
Exploring Cheese
Robert Aguilera, who has been in the cheese business for 20+ years as a retailer, general manager, and cheese buyer for Ihsan Gurdul's famed Formaggio Kitchen as well as a cheese maker/consultant, delivered a class session for Associate Professor Katrina Herold's Exploring Cheese course on April 24. Seven representative cheeses were tasted. "Cheese affects how we feel as students," Kayla Juliana and Caroline Loeb (left to right) said at the end of the delicious tasting and thoughtful presentation.
Dodge the Dark
On May 1, six College of Hospitality Management faculty members participated in the #dodgethedark JWU dodgeball event to support the Leukemia and Lymphoma Society. Pictured (top to bottom): Tiffany Rhodes, Nicholas Makris, Robert Wahl, Brian VanGyzen, Michael Sabitoni and Kathleen Drohan.
Bruce Newbury, Rhode Island's own "Food Dude," and a longtime local food journalist and radio personality, asks, " Who might be on stage to receive an honorary degree in the next decade or so?" in his tribute to JWU's HDR's and the regions burgeoning food scene. Read "Recognizing food achievers today and tomorrow," in the Providence Business News.
Tim Howes, associate professor in the College of Business, discussed Burger King's new ad campaign on mental health with Gene Valicenti on WPRO radio.
The Providence Journal featured one of the recipes College of Culinary Arts Instructor Rizwan Ahmed developed for Eating with the Ecosystem's "Simmering the Sea: Diversifying Cookery to Sustain Our Fisheries," a cookbook focusing on underutilized seafood species. Read the story, and give the recipe for Skate with Capers and Butter a try.
MeetingsNet, which publishes an interactive magazine app and digital edition and several e-newsletters for the meeting industry, gave full-page coverage to the March International Association of Exhibitions and Events (IAEE) New England meeting held at JWU Providence. Read more.
Campus Announcements
Fire Pump Testing
Consistent with NFPA regulatory requirements, Facilities Management will be performing annual testing of the fire pumps at Snowden Hall, Xavier Academic and the John Bowen Center for Science and Innovation (CSI). These tests will occur on Monday, May 20, at approximately 7am for Snowden; 8:30am for Xavier; and 10am for CSI.
You may notice some water discoloration in the buildings and buildings surrounding the area as a result of these tests. Please do not be alarmed, as this discoloration is anticipated. We will also be flushing the domestic water lines in the buildings to keep this discoloration to a minimum as much as possible. We apologize in advance for any inconvenience this may cause. If you have any questions, please call Andre Vafiadis in Facilities Management at 401-741-3287.
NECHE Self-study: Feedback Requested by May 8
In a memo from Provost Billye Auclair, Ph.D., she shared a copy of the university's self-study as part of JWU's preparation for the October 2019 comprehensive evaluation by the New England Commission of Higher Education (NECHE) to maintain its accreditation. The draft is available for faculty and staff review on JWU Gateway. Please submit comments to NECHE2019@jwu.edu by end of day Wednesday, May 8.
Looking for a healthy twist on a classic dish or something you haven't tried before?
Find what you're looking for in JWU's library of recipes.