In seeking the most popular diner desserts in the country, Food Network Magazine asked Matt Britt, CEC, instructor in the College of Culinary Arts, why these items have become such an integral part of diner fare. Read his answer in "America's favorite diner desserts."
In an interview with NerdWallet, Diane McCrohan, associate professor in the College of Business, said Presidents' Day offers consumers their first opportunity to take advantage discounts for various products available at retailers. The story was subsequently picked up by media outlets across the country. Read more.
The Korean beauty industry continues to grow in popularity. Kristen Regine, professor in the College of Business, sat down with NBC 10 Consumer Advocate Emily Volz to explain why the products are popular and how consumers can make informed purchasing choices. Watch now. Regine also recently discussed why retailers are considering going cashless in store with the Gotham Gazette. Read more.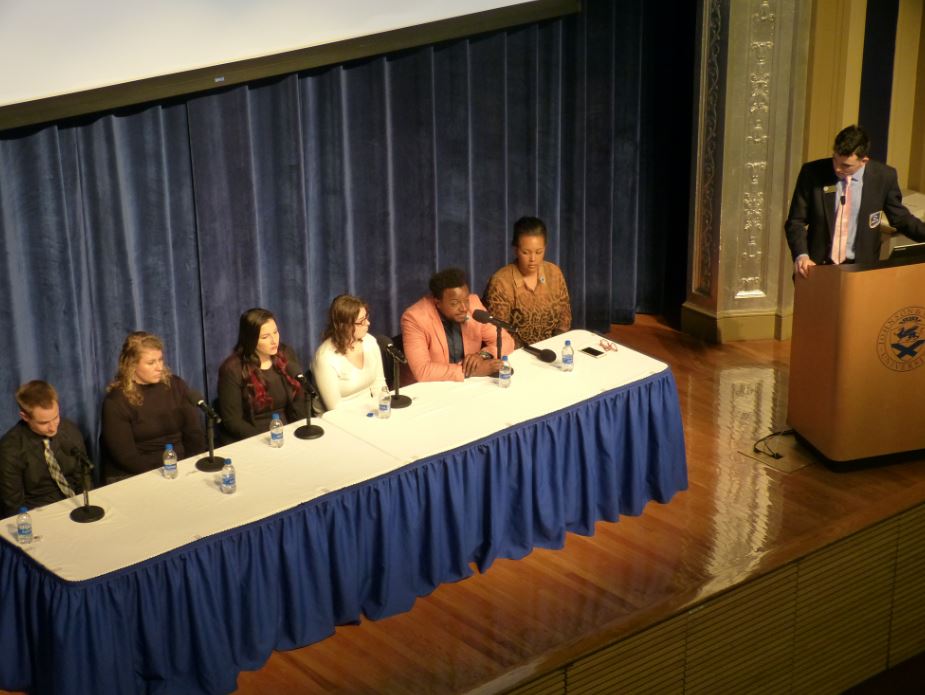 On February 8, JWU hosted the DECA Northeast Competitive Events Conference, which allows students to put their experience, skills and knowledge to the test while representing their university. JWU DECA students also organized a six-member JWU DECA alumni panel. Countless JWU alumni, faculty and staff served as judges for this full-day competition.
Congratulations to JWU's first-place student winners: Davis Jean-Noel, Aaron Miller, Miles Joyner, Cassandra Ponce, Colin DeVico, Miles Lazar, and Allison Parent
Alumni panel (left to right): Alexander Louden '16, Alexandra O'Neil '14, Kara Zanni '10, Michaela Manco '15, Dante Wilson '12, and Elsa Tavares '14, with student moderator Max May
On February 5, television journalists Steph Machado, from WPRI (left), and Michelle San Miguel, from NBC10 Providence (right), were on campus to discuss the role of politics, race and gender in the media as part of the John Hazen White College of Arts & Sciences' Media & Politics Café series. This event is a joint initiative to engage students in the Political Science, Media & Communication Studies, Psychology and Sociology programs. Read the full blog.
Self Service Password Reset
Information Technology is implementing the Self Service Password Reset (SSPR) capability for all students, faculty, and staff at Johnson & Wales University. This new system increases the university's level of password security and will eliminate the need for the 90-day password reset once all JWU employees and students have registered with SSPR. All JWU students and employees are required to register with SSPR by March 18, 2019: JWU SSPR Registration Portal ( sspr.jwu.edu )
Only individuals registered with SSPR will have access to the self-service capability. Those who do not register will have to call the IT Service Desk for password assistance. The current method of resetting passwords will be retired by the end of March 2019, so it is very important that all JWU users complete their registration with SSPR.
If you have any difficulty with registering, please contact the IT Service Desk for assistance at 1-866-598-4357. Hours are Monday to Friday, 8 a.m.-7:30 p.m. ET; closed Saturday and Sunday.
Fire Alarm Testing
During the week of February 25 through March 1, Facilities Management will be updating the fire alarm panels for the following locations starting at 8am on February 25:
Wales Hall

Imperial Hall

The Friedman Center
At the end of each day, the fire alarm system will be tested and the horns will sound sporadically for 15 minutes. The final test with the state fire marshal will be determined.
Call Andre Vafiadis in Facilities Management at 401-741-3287 with any questions.
Looking for a healthy twist on a classic dish or something you haven't tried before?
Find what you're looking for in JWU's library of recipes.