September Contest: Today through Friday, September 13, submit at least one photo along with a short caption from ANY JWU Providence event, activity, game or program, or from inside the classroom or lab, to This Week at JWU to be entered to win a free grande drink at Starbucks Downcity, Starbucks Harborside or Wildcat Cafe. Photos sent in will be included in the September 17 edition of the newsletter. Two winners will be drawn and also announced in the September 17 issue.
Submission details: Photos taken on a cellphone are welcome. This contest is for JWU Providence faculty or staff only. Submissions are due to Lauren Tkacs no later than 4:30pm on September 13 in order to be entered in the drawing.
Save the dates: Experiential Education & Career Services fall part-time job and career fairs.
One year ago, JWU Providence entered into an agreement with National Grid called a Strategic Energy Management Plan (SEMP). Matt Fannon, JWU's energy conservation manager, explains the benefits of working with National Grid in this article, "National Grid's energy efficiencies fuel savings for JWU."
Students are heading back to school. Kristen Regine, professor in the College of Business, tells NBC 10 Consumer Advocate Emily Volz that there will be record consumer spending this year, thanks in part to the need for laptops, tablets and other gadgets to complete homework. Watch now. In a separate interview with NBC 10, Regine discussed the surge in sales of bulletproof backpacks. Watch now.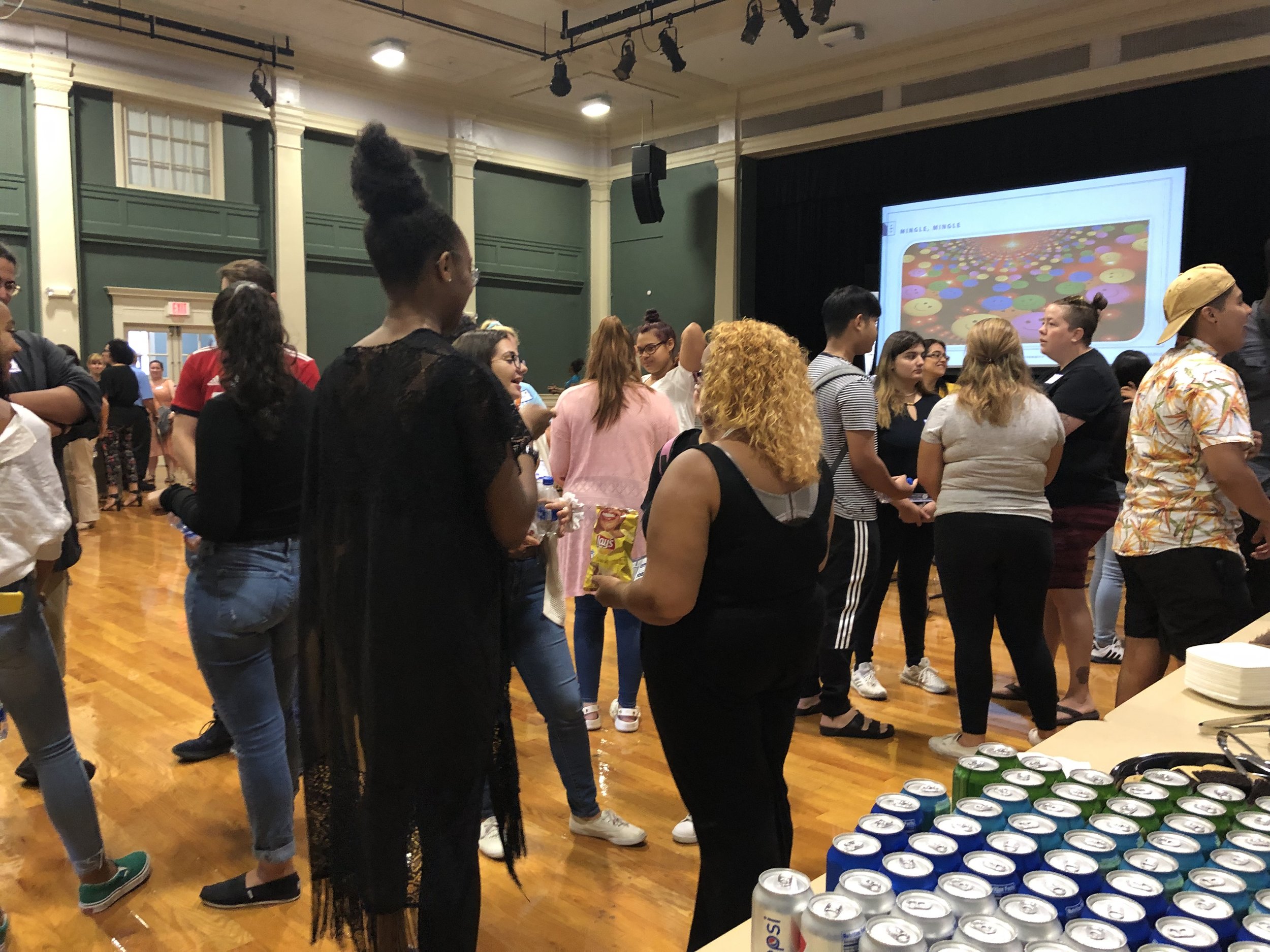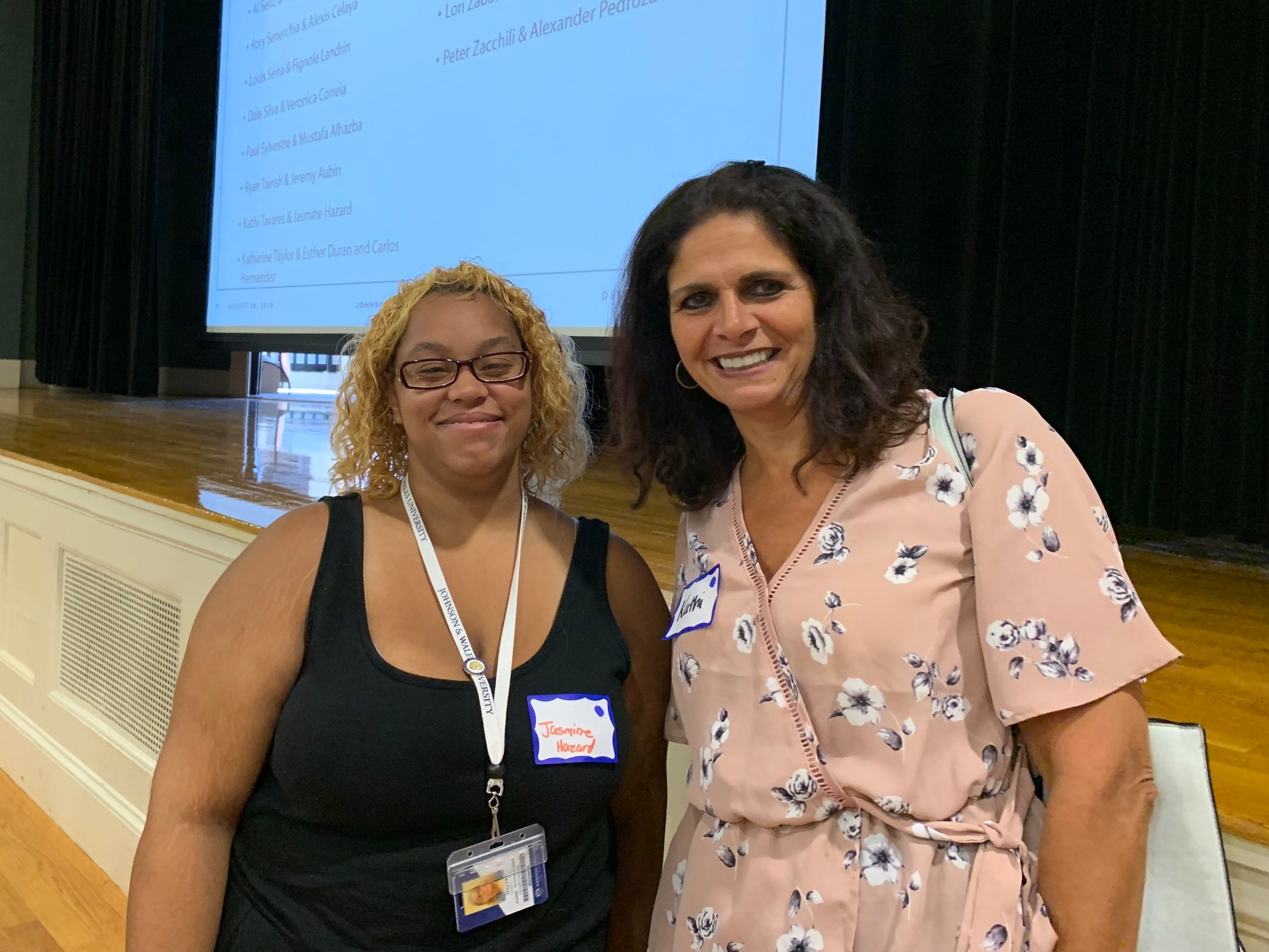 The JWU Campus 2022: Our Approach subcommittee kicked off its jwuGOLD Mentorship program on Friday, August 30. The call for volunteers this past spring engaged more than 40 faculty and staff members to participate in the pilot program to serve as a resource and mentor to nearly 50 first-year commuter students.
Faculty and staff represent a variety of departments including JWU Global, Student Involvement & Leadership, JWU Library, New Student Orientation & Support Programs, University Marketing, Institutional Research, Admissions, SAFS, Alumni Relations, Baking & Pastry Arts, Food Science, Humanities, English, Criminal Justice, SEEM, Travel and Tourism, Hospitality, Technology, and more.
Wildcats First is a monthly workshop series designed to develop skills for incoming students to be successful at JWU and beyond. This is a perfect opportunity for them to meet peers and learn ways to make the most of their college experience. Questions: wildcatsfirst@jwu.edu
Listing of JWU Alumni-Owned/Operated Restaurants in Providence Area
Hungry in Providence? Whether it is a lunch meeting Downcity or dinner with the family, you can support JWU alumni with your next meal. Alumni Relations is proud to share a list of alumni-owned/operated restaurants in Providence and the surrounding area. This list will be updated periodically as new restaurants and alumni are confirmed and added. View and download (PDF) the listing.
You'll find many familiar names on the list, and you might discover a JWU connection you didn't know about. This list is generated based on the information in JWU's alumni database so if you think a restaurant is missing, please email alumni@jwu.edu so we can update our records.
Please note: the purpose of this list is to provide the JWU community with a tasty way to support our alumni. No discounts or special offers are available in conjunction with this list.
NECHE Information Sessions for JWU Staff, Sept 19
In October, Johnson & Wales University will undergo a comprehensive evaluation by the New England Commission of Higher Education (NECHE) to maintain its accreditation, culminating in a site visit by a team of peer reviewers.
To help prepare the JWU community for their visit, Provost Billye Auclair is hosting NECHE Information Sessions for JWU staff on Thursday, September 19.
10-11 a.m. – Pepsi Forum, Downcity Campus

2-3 p.m. – Wildcat Center Lounge, Harborside Campus
Reminders for the 2019-20 Academic Year
The start of the academic year for most graduate students began on Monday, August 26. Undergraduate, MAT and MEd students will attend their first day of classes on Monday, September 9.
Academic calendars for 2019-20 have recently been updated. To view and download JWU academic calendars, visit the JWU website.
Providence Campus Commencement Dates
Graduate Commencement: May 1, 2020
Physician Assistant Studies Commencement: May 15, 2020
Undergraduate Commencement: May 23, 2020
Looking for something else? Check out JWU's Changing the Way the World Eats library of recipes.